Teeth Whitening For A Brighter Smile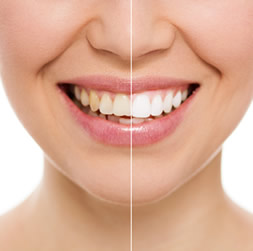 We only offer the safest, GDC-recognised methods of teeth whitening
Tooth whitening regime must be overseen by a qualified dental clinician
Reliable treatment which delivers fantastic results
Below are some frequently asked questions we get in our practice. We hope you find these helpful but if you have any other questions about teeth whitening then don't hesitate to give us a call.


Q: I am interesting in tooth whitening. Is it whitening safe?
A: Tooth whitening is very safe, provided that your treatment plan is overseen by a qualified dental clinician, and that the nature of the treatment follows the regulations as set out by the General Dental Council.
Q: Why can't I just buy a teeth whitening kit that I can find over-the-counter or on the internet?
A: The GDC has ruled that teeth whitening is a treatment that can only be legally performed by a qualified expert, and as such home kits that you may find via other avenues must be avoided as they could potentially damage your teeth and gums.
Q: How reliable is tooth whitening? How long can I expect the results of the treatment to last?
A: Tooth whitening is very reliable, but the projected results expected can very much vary from individual to individual. The success that the treatment can produce for your teeth can depend on a number of factors – including the foods and drinks consumed as part of your diet, the condition of the teeth before the treatment, and your brushing and oral hygiene habits.
Q: I would like to book myself in for teeth whitening treatment. How can I do this?
A: You will require a consultation in order for the clinician to determine your suitability for the procedure before it can be offered to you. If you would like to book yourself a consultation, please do not hesitate to contact us via our online form or by telephone on 01352 753777.